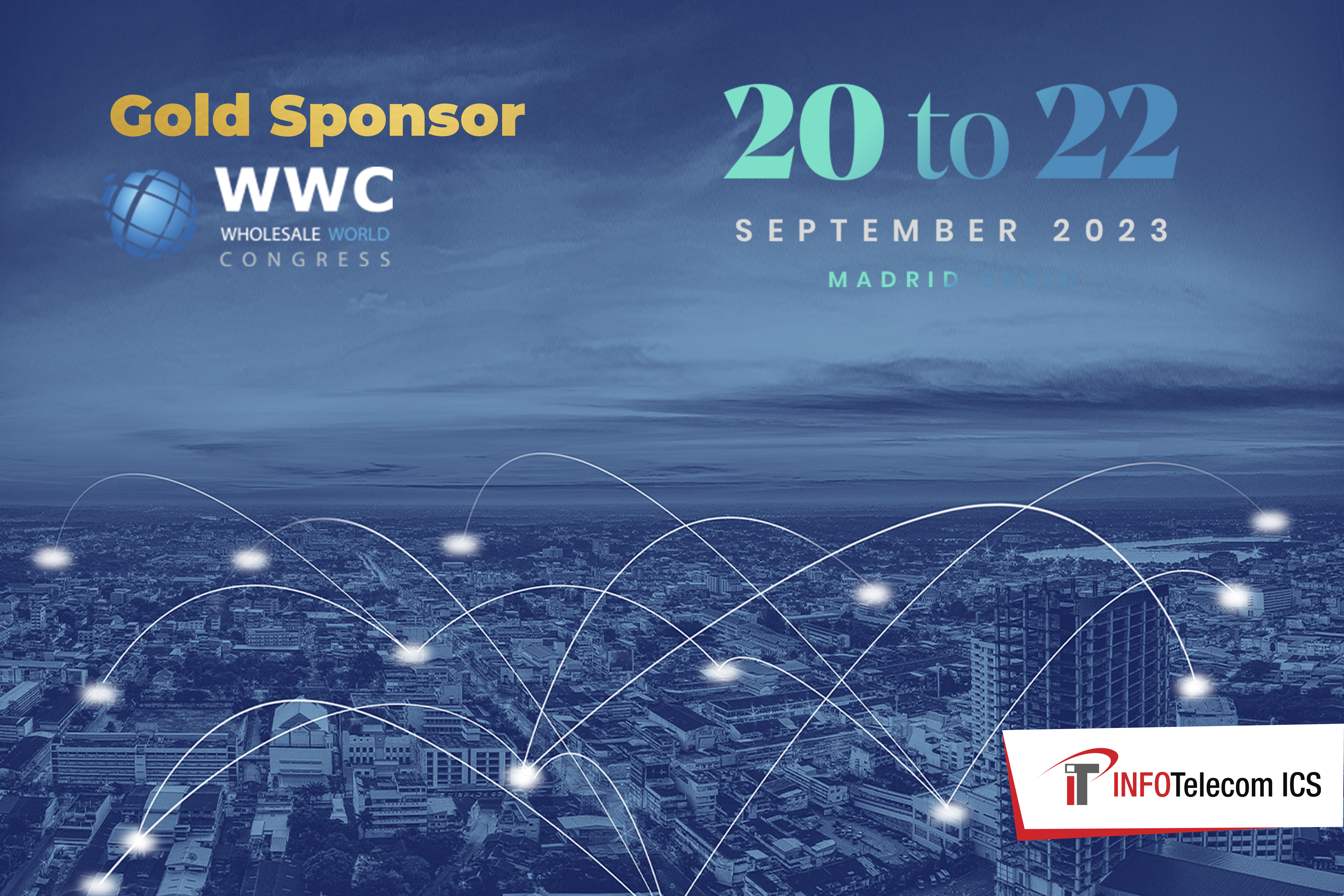 Infotelecom ICS Takes Center Stage at WWC Madrid Conference, 20-22 September.
Get ready to immerse yourself in the world of technology, innovation, and connectivity at the highly anticipated WWC Madrid Conference, set to take place from September 20th to 22nd. Infotelecom ICS is proud to announce our active participation, and this year, we're taking it up a notch as a gold member sponsor. With an esteemed delegation of 10 experts and two dynamic booths – Room El Escudo 29 (SMS corner) and Room El Prado A8 (Voice corner) – we are excited to make our mark on this exceptional event.
Infotelecom ICS's Breakthrough Presence:
At the WWC Madrid Conference, Infotelecom ICS is poised to redefine the future of communication. Our dedicated team of 10 delegates, including industry thought leaders and innovators, is gearing up to engage with fellow attendees, share insights, and demonstrate the latest advancements in telecommunication technology.
SMS Corner: Revolutionizing Communication (Room El Escudo 29):
Step into a world of instant communication and engagement at our SMS corner. Infotelecom ICS is at the forefront of SMS innovation, offering solutions that redefine customer interactions, marketing strategies, and business communications. Join us in Room El Escudo 29 for live demos, interactive discussions, and a glimpse into the endless possibilities of SMS technology.
Voice Corner: Empowering Conversations (Room El Prado A8):
Experience the power of voice technology in shaping future interactions at our Voice corner. From virtual assistants to seamless customer support, Infotelecom ICS is showcasing how voice technology is revolutionizing user experiences across industries. Join us in Room El Prado A8 to witness cutting-edge solutions that amplify the way we communicate.
A Gold Member Sponsorship: Commitment to Innovation:
Infotelecom ICS is honored to be part of the WWC Madrid Conference as a gold member sponsor. This sponsorship not only reflects our dedication to innovation but also our commitment to driving meaningful connections and contributing to the advancement of technology on a global scale.
What Awaits You:
Engaging Booth Experiences: Immerse yourself in interactive displays, captivating demos, and hands-on experiences at our SMS and Voice corners. Our experts are ready to guide you through the world of communication technology.
Expert Speaker Sessions: Join us for insightful sessions led by our experts. Discover the latest trends, gain valuable insights, and explore real-world applications of SMS and voice technology.
Networking Opportunities: Connect with our esteemed delegation, including thought leaders, industry experts, and innovators. Engage in discussions, explore potential collaborations, and expand your professional network.
Exclusive Announcements: Stay tuned for exciting announcements at both our booths. We're unveiling new features, partnerships, and initiatives that underscore our dedication to shaping the communication landscape.
Stay Connected with Infotelecom ICS:
Stay updated on our journey before, during, and after the WWC Madrid Conference! Follow us on LinkedIn for real-time updates and key event highlights.
Conclusion:
As a gold member sponsor at the WWC Madrid Conference, Infotelecom ICS is ready to redefine communication, inspire innovation, and create meaningful connections. Join us from September 20th to 22nd and experience the future of SMS and voice technology at our dynamic booths. Together, let's shape the way we connect, communicate, and collaborate in the ever-evolving world of technology!